One of the largest LAN parties in Ohio. 100+ seats available. 40+ hours of playing, competing and equipping. PC, consoles, tabletop, TCG and D&D games. Bring a friend and gain some new ones!
$45 includes badge and lanyard, 3' table space, basic chair, some meals, snacks, beverages, BAWLS energy drinks, raffle ticket, endless amounts of fun with others and much more.
565 S. Cleveland Massillon Rd. | Fairlawn, OH 44333
Salt-Free & Positive Gaming For All Gamers.
We invite all gamers, platforms and playing style, whether you're the competitive type or more into casual play. We desire to be a community of gamers that play and compete well. You can expect an environment of hospitality, a full schedule to join in on and ways to engage others while gaming.
Why do we hold ourselves to this standard in such a typically toxic environment as gaming? Check out our StoryTime at each LAN where we share the story and message of Jesus.
Registration Includes:
3′ Table Space & Basic Chiar
Power & Internet
Badge & Lanyard
Raffle Ticket
Snacks & Beverages
BAWLS Energy Drinks
Friday Pizza & Salad Dinner
Saturday Sub Lunch
ROFL Waffle Breakfast (BAWLS infused)
Things you shouldn't forget and things you should just leave at home.
Bring This:
Computer and or console
Gaming peripherals
Sleeping gear
Comfy chair (optional)
Snacks and drinks (some provided)
Under 18 bring a responsible adult
Don't Bring This:
Speakers
Projectors
Any powered refrigeration
Drugs or Alcohol
Weapons
Equipping gamers for all kinds of real life situations.
Clean Your Rig
When: 2:00p Friday, September 29th
Presenter: Steve (stevenleevan)
So maybe it's been awhile…if ever, that you've cleaned your gaming rig. No shame. No judgement… but let's get that thing cleaned up right at the start of our LAN before you put your rig through 24+ hours of intense gaming with others! We'll provide the tools and the pro tips you need to run a clean and cool LAN!
Intro to Alpha
When: 9:00a Saturday, September 30th
Presenter: Steve (stevenleevan) and Ryan (Perrind)
Alpha, an open and informal conversation about life, spirituality, and the person of Jesus without judgement or pressure. Join us as we put on the first session!
Parenting & Gaming
When: 8:00p Friday, September 29th
Presenter: Joe (JOOOOOOOOOO)
We want to equip and empower parents with the vision and tools they need to raise their children well in a culture of gaming and online presence.
Frequently Asked Questions.
What if I'm under 18?
Anyone under 18 must be accompanied by a parent or guardian.
Will there be alternative meal options for dietary restrictions?
We would love to accommodate, please email administration@forgegaming.us or DM an admin on Discord.
What are the sleeping arrangements?
For those that wish to get some sleep like normal humans, we will have dedicated men's and women's sleeping areas. This is a basic room with a hard floor, so you may want to bring a cot, mattress, pillows, blanket, sleeping bag or whatever camping style sleep gear you can.
What about safety considerations?
We have a background checked and trained volunteer team walking the building throughout the day and night. All doors will be locked at midnight. You are responsible for watching after any of your personal gear.
Why am I paying $35 to LAN?
If we could make these free we totally would! However, 100% of our costs go to providing an awesome LAN experience with meals, beverages, snacks, power, internet, a sweet venue, raffle and tournament prizes and anything else we need to LAN.
Is there a way to sponsor or support Forge LAN?
Hey, thanks for asking! Absolutely there is and we would be honored to have you be part of making Forge LAN amazing and reach more gamers. If you, your organization or company would like to support and sponsor in some way, please check out our Sponsorship Guide here!
Wait, is this a Christian LAN party?
Forge Gaming is a nonprofit gaming ministry which means that we think the most awesome and loving thing to do is share the story and message of Jesus to gamers and care for gamers in various ways. Everything at our LAN is optional including ways to learn about Jesus (StoryTime, Workshops, Forge Study). We aren't just for Christians, and we are honored and respectful to anyone joining our LAN!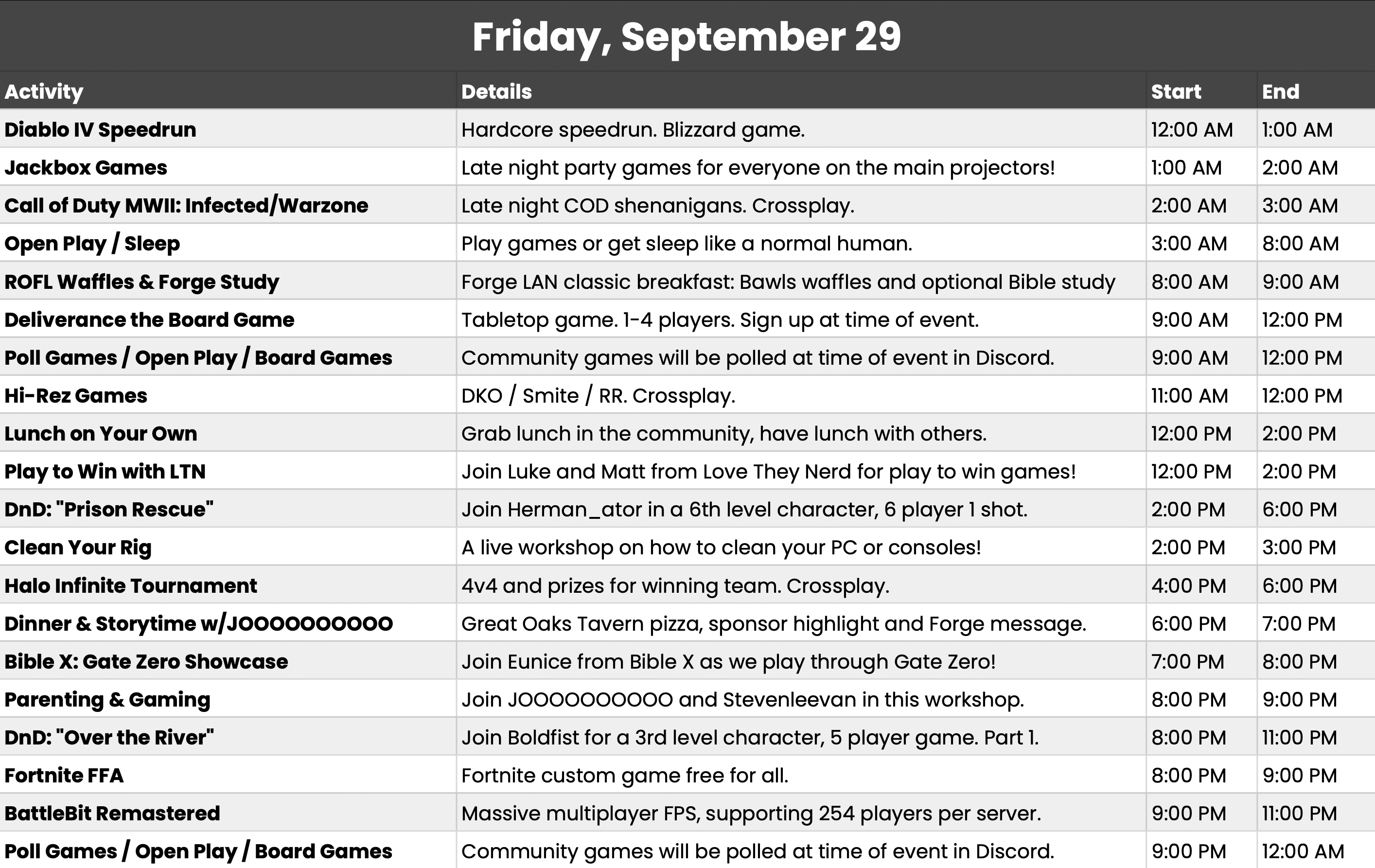 Sponsorship Opportunities!
Interested in sponsorships and partnering opportunties with Forge LAN? With the help of organizations, companies and people like you, we can create an awesome LAN party and reach more gamers together!